Affordable Ways to Stay On Trend This Fall
Every new season brings the craving for a new wardrobe, and it becomes even harder to stay away from your favorite stores. For me, fall does it. The promise of cooler weather gets me really hyped, I'm not going to lie. Hot chocolate, chai tea lattes (I don't like PSL, please don't hate me haha), sweaters and Christmas movies. . .  I love hanging out in my favorite coffee shops to grab said chai tea latte, text my best friend to meet me at the mall, and we go to town.
As a college student, I know what it's like to shop on a budget.  When the seasons change, stores lure you in with the sales and the deals - it's all so exciting! But the real challenge amidst all the browsing is making my wish list match up with my bank account. Well, this post is all about how to get the newest trends and looks while being nice to your wallet!
Look #1: Velvet Burnout and Bell Sleeves
Moody florals, crushed velvet burnout, bell sleeves - does it get any dreamier than this dress?! If you love to feel glamorous, then this beautiful a-line dress is for you! It has the perfect balance of laid back and glam style which makes it perfect to wear to a fall wedding or dinner party! It is also a great choice for the coming months if you want  to be the best dressed college student at home for the holidays.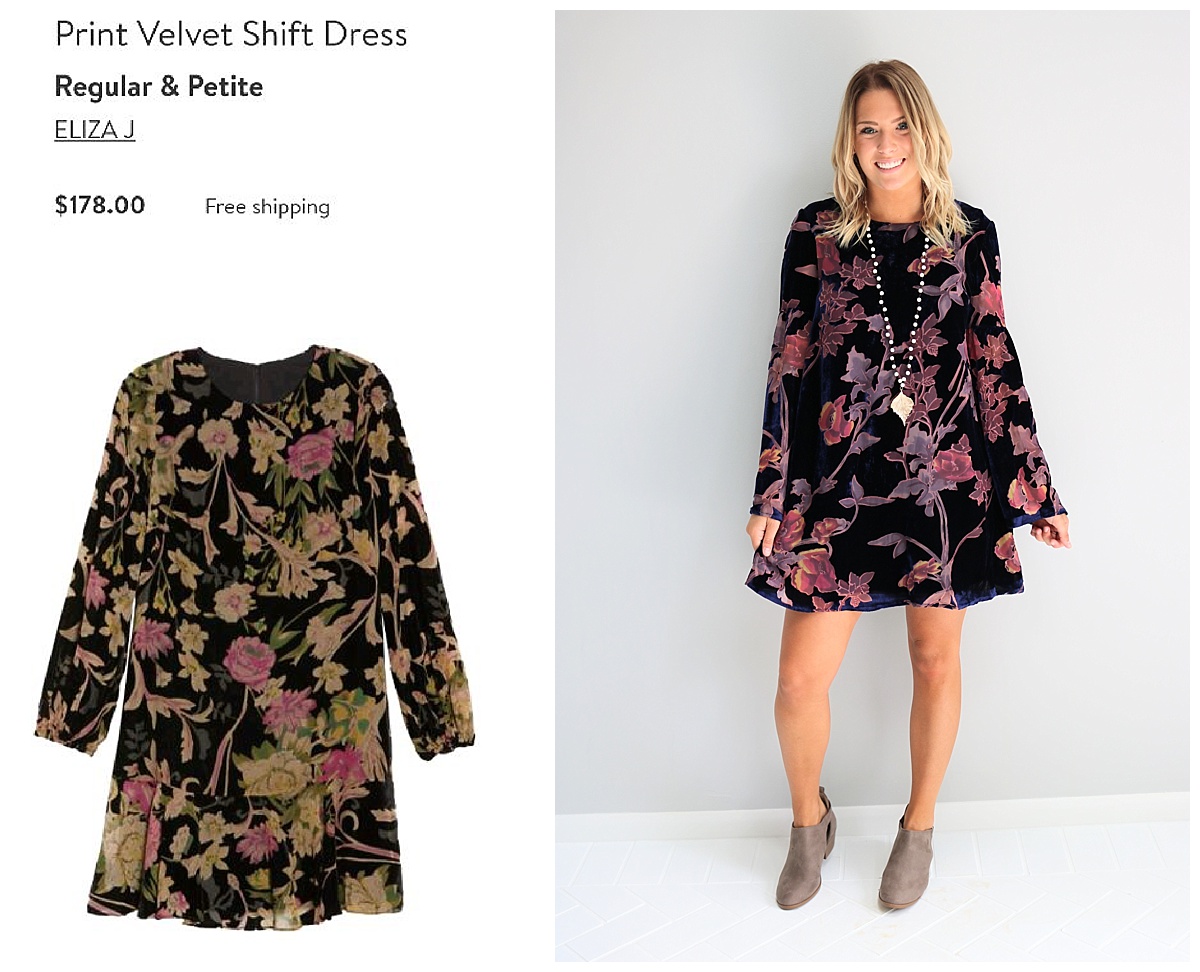 Steal the look for less: Nordstrom sells ELIZA J's version of this dress for $178, as you can see pictured above. At The Copper Closet, it is $40, grab it HERE. Plus, it also comes in a Burgundy/Blue color combo. Both color combos are available in the online store, or in one of the north Florida locations in Jacksonville and Gainesville.
Look #2: Don't Call Me Baby(doll)
Babydoll dresses are a classic style that has lasted since the 50s. I've seen many photos of myself strutting my stuff as a kid in a printed babydoll shirt or dress. But don't worry, this is nothing like the version of the babydoll dresses your mom dressed you in at age three! The modern take on the silhouette is very figure flattering for all shapes and sizes. The way it draws attention to your waist and flows away from your body makes this style an awesome choice for any woman. Free People's Fake Pretend Babydoll dress is our inspiration for this look. The petite floral print and lace detail on the bust add a modern twist to the long sleeve mini dress.
This dress is an updated version of the classic silhouette. It's still very versatile and can be worn for many occasions, making it a classic piece to have in your closet. With this dress  you will be rocking the sassy and sweet vibe! Pair it with booties and a slim choker, and you'll carry the oomph factor in this outfit off the charts.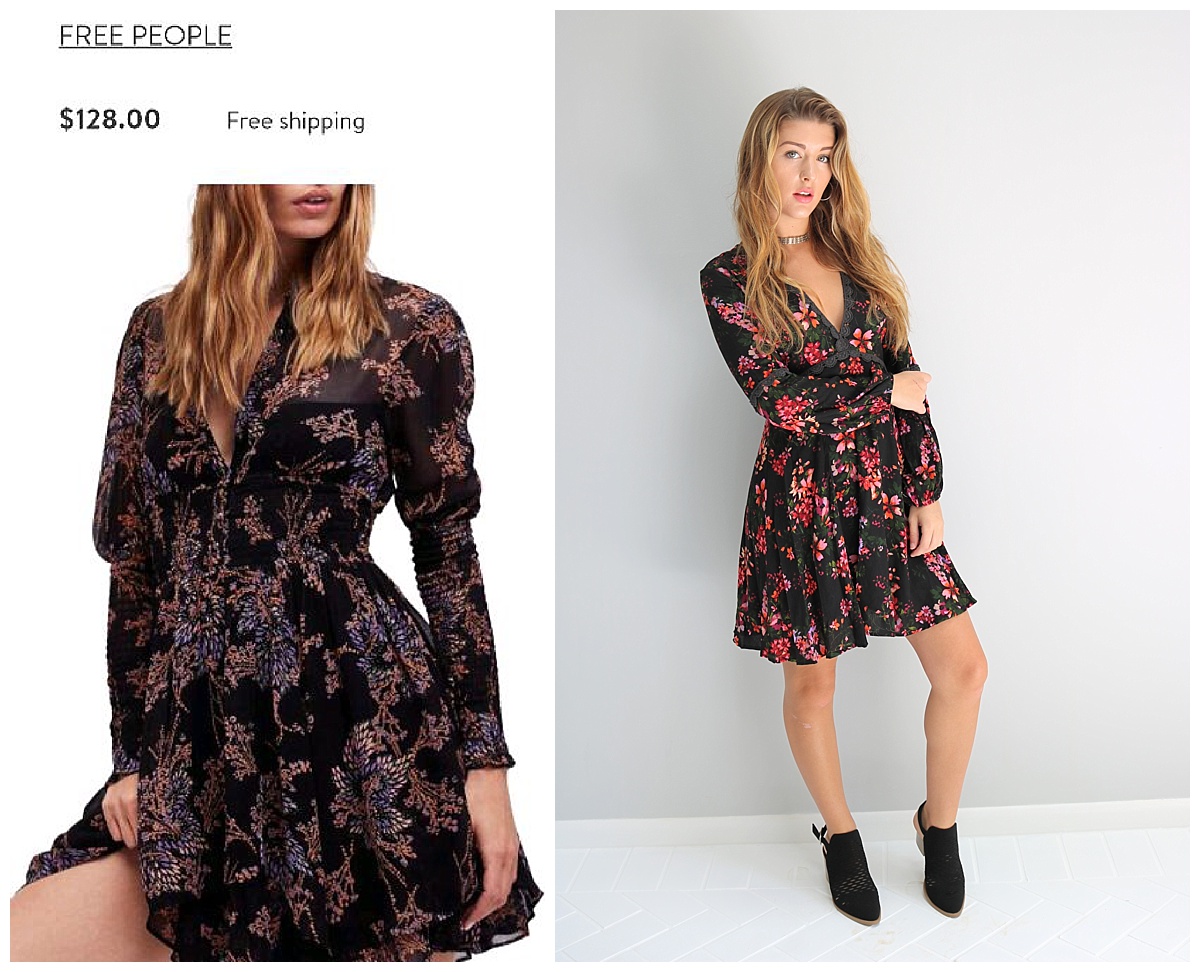 Steal this look for less: As you can see pictured, Free People sells this dress for $128. The Copper Closet's version is your wallet's best friend coming in at $36. Available online or in-store in Jacksonville or Gainesville.
Look #3: Lace It Up
Nothing screams fall like plaid. Bell sleeves bring a softness to the look, but the lace-up detail adds a little sass. This should be your new favorite top of the season. Because this shirt is long and flowy, it can be worn as a tunic with leggings or skinny jeans. We all know that simple and comfy outfits are what we love for fall! You can quickly throw this on for class, and feel confident about heading straight out for dinner afterwards.
You can also change it up a bit by tucking this blouse into a pair of high waisted jeans for a fashion-forward look. I would take advantage of the playful detail of lacing, and pair this top with a metallic belt and chandelier earrings. You'll rock the next girls' night out  - or date night - with a look like this!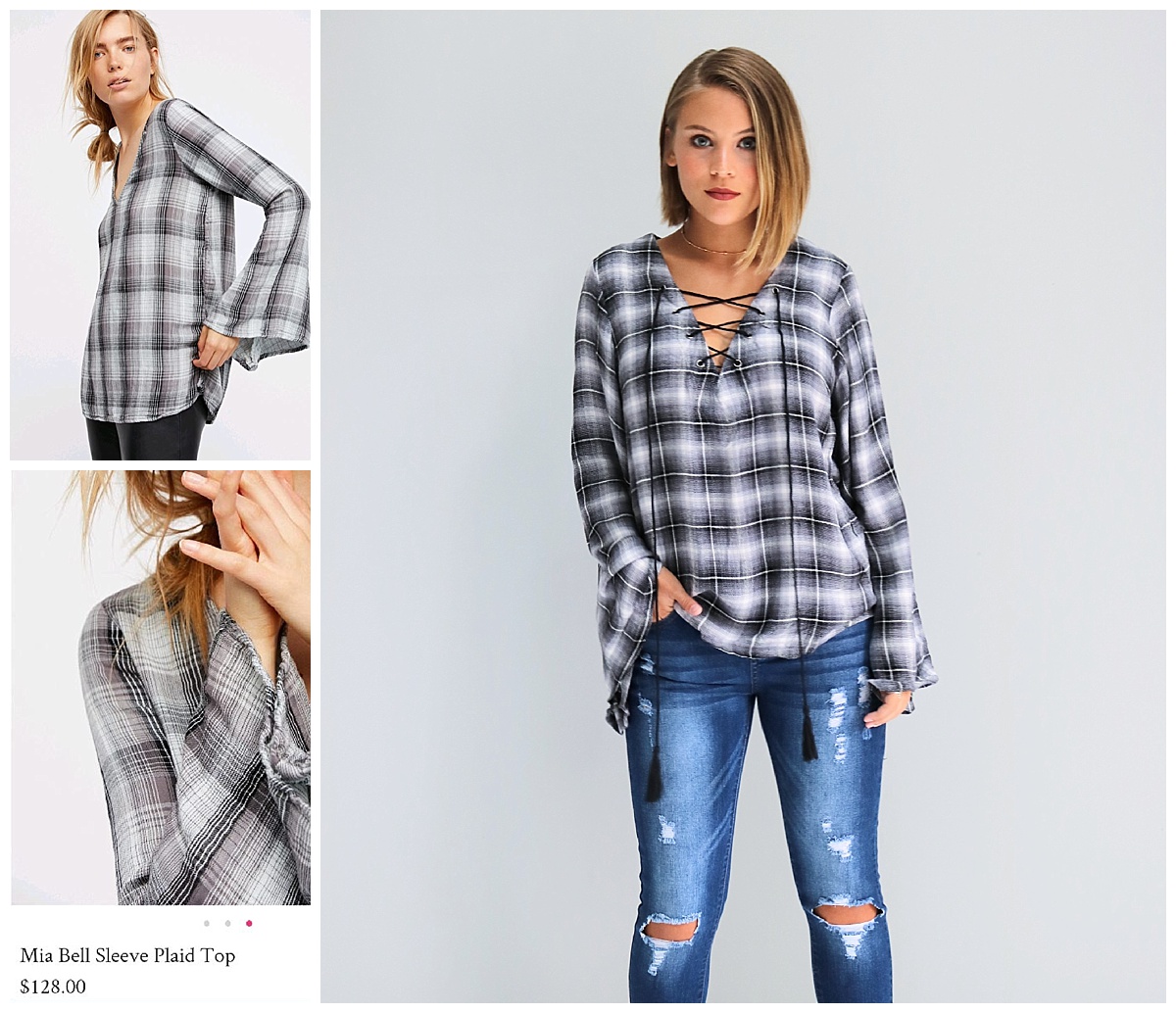 Steal this look for less:  Free People sells this top for $128. The Copper Closet's more affordable version is yours for only $32. It is available in the online store, and in-store in Jacksonville or Gainesville.
Follow @thecoppercloset on Instagram to keep up with the latest trends and where to get the best deals!
Look #4: Faux Leather Love
Everyone loves leather, and most of us love leggings, and that math sounds like a no-brainer to me. These leggings are what I would call a wardrobe staple for this season. Chances are that our temperatures won't drop too low here in north Florida. The faux leather leggings are a great alternative to the leather jeans you will see your style icons rocking this year.
I personally wear my leather leggings to death and need a new pair every season! They are one of the essential, basic pieces every woman should have. Pairing them with an oversized sweater is a comfy, easy look for a coffee date or hanging with friends. Leather always adds an element of luxury to your outfit, and these are perfect for keeping your look on point while you stay nice and comfy!  To channel your inner rocker chick, wear these leather leggings with a graphic tank and boots to create an edgier look for your next concert or night on the town.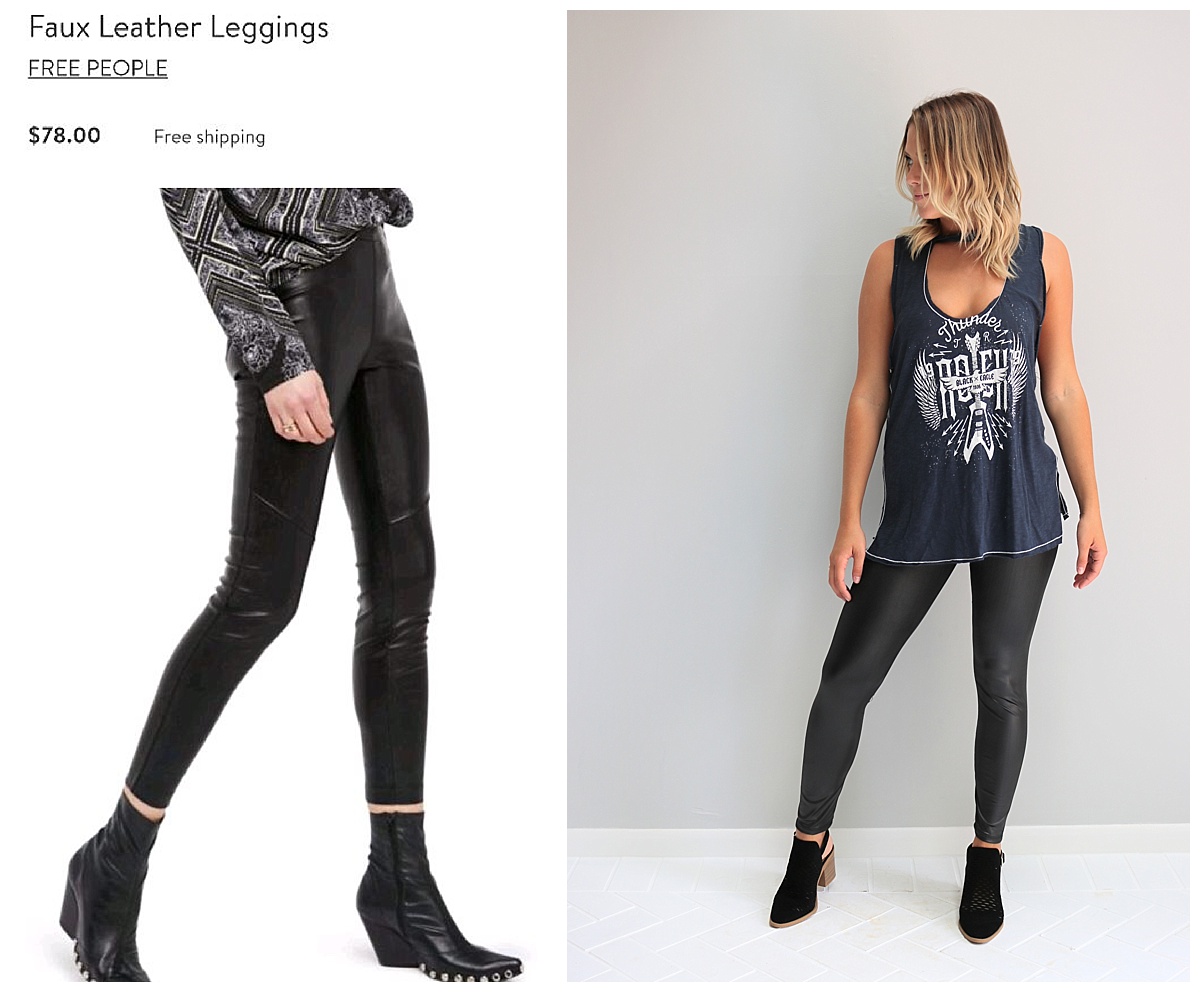 Steal this look for less: Get your leather leggings at Copper Closet for $18 - a true steal compared to Free People at $78. Buy the leggings in the online store, or in one of our north Florida locations in Jacksonville or Gainesville.
To get everything you see here and more, all for $45 or less, visit our online store!

USE COUPON CODE: COPPER CASH FOR $5 OFF YOUR PURCHASE
You definitely do not have to spend your entire paycheck to get the hottest new looks of the season! Keeping up with your favorite brands and trends is a great way to keep your wardrobe up to date. Shopping local and finding super cute alternatives is how you do it affordably.
Be bold - take "what's trending" and make it your own! Your style is your way to express yourself to the world. You can use unique pieces like the ones featured in this post to build creative outfits, and add fun accessories to spice them up. The Copper Closet has everything you need from the looks pictured to booties, jewelry and scarves to stock your wardrobe with the latest looks for fall!
ABOUT THE AUTHOR