How to Dress for the Biggest Rivalry Game in the South
Football season is officially among us! The tailgates, barbeques, friends, and games are in full swing this season. Whether or not you actually watch football, there is no doubt that going to a game is a blast. Wearing your favorite team's colors and cheering them on is always a good time. The Florida-Georgia game is rapidly approaching and anyone in attendance should consider themselves lucky! It's always a fun game to watch and the Florida-Georgia rivalry makes me laugh. If you're planning to attend the game, what are you going to wear?! I have some tips that will be sure to help!
Obviously, if you're cheering on a certain team you should keep their colors in the back of your mind when choosing an outfit. Nothing is more embarrassing than wearing the colors of the opposing team… Some people know from experience… Oops. ;) (It was just a Jacksonville Jaguars game that I dressed wrong for, don't worry). Anyway, let's start with rompers.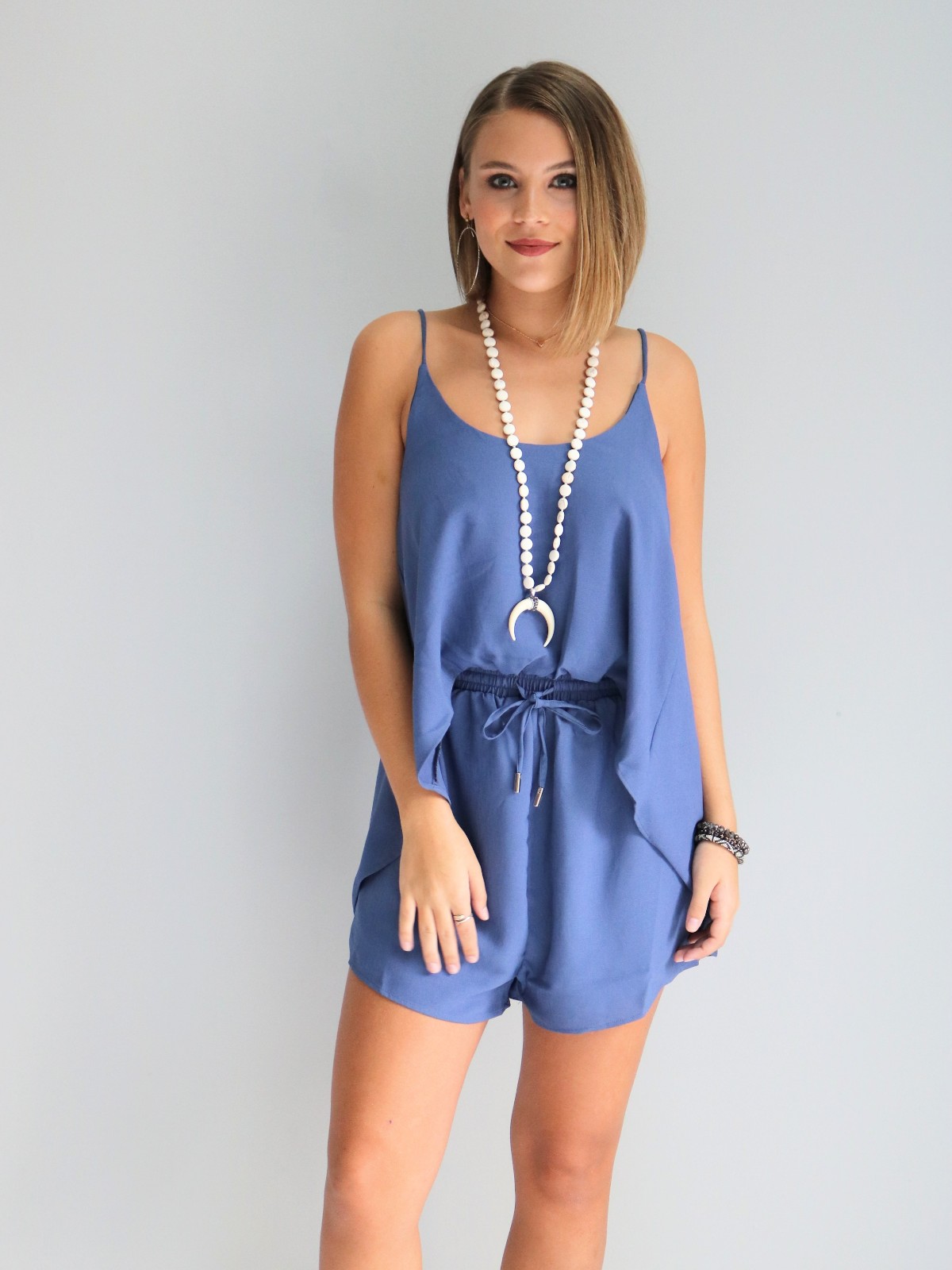 The romper pictured above is such a cute piece to wear to a football game. Here in Florida the air doesn't start getting cool for a little while, so the Florida-Georgia game will probably still be a bit warm. Rompers are a perfect clothing item to opt for since they are casual but can easily be dressed up. The one shown above is a spaghetti strapped romper with the illusion of a tucked in top. I love spaghetti straps because you can throw on a cute bralette underneath and add something different to the outfit. Not to mention rompers are great for the warmer weather!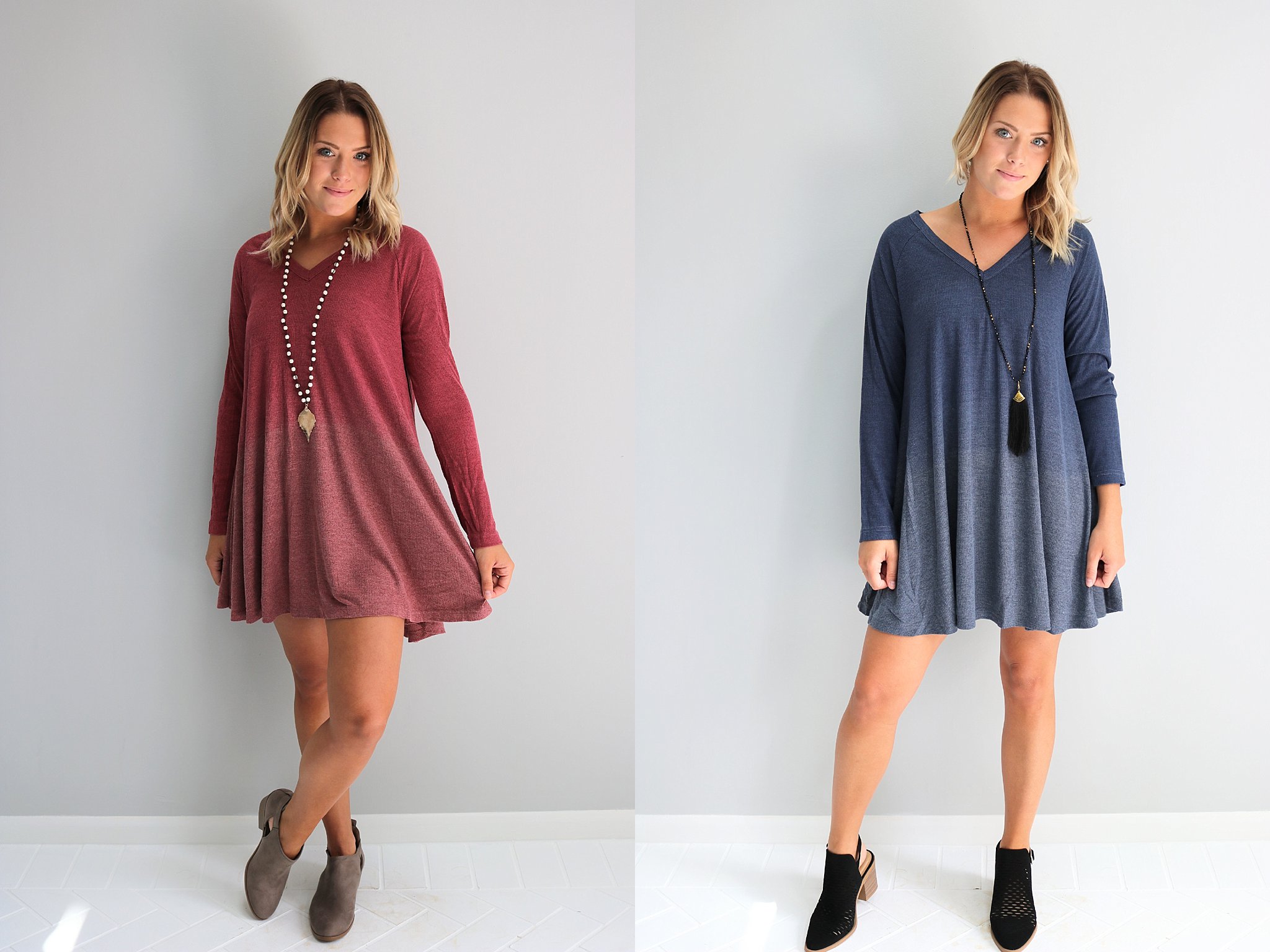 Dresses are another great piece to have for a football game. You might be thinking… aren't dresses a little too dress-y for the occasion? I've found dresses to be one of the most comfortable things to wear for games. The dresses above are perfect because they're flow-y and comfortable, and they're long sleeved in case the temperature starts to drop throughout the evening. I would go for some high top converse with this dress to dress it down further and add an element of comfort. However, if you're feeling fancy, a cute pair of wedges would work great with this type of dress!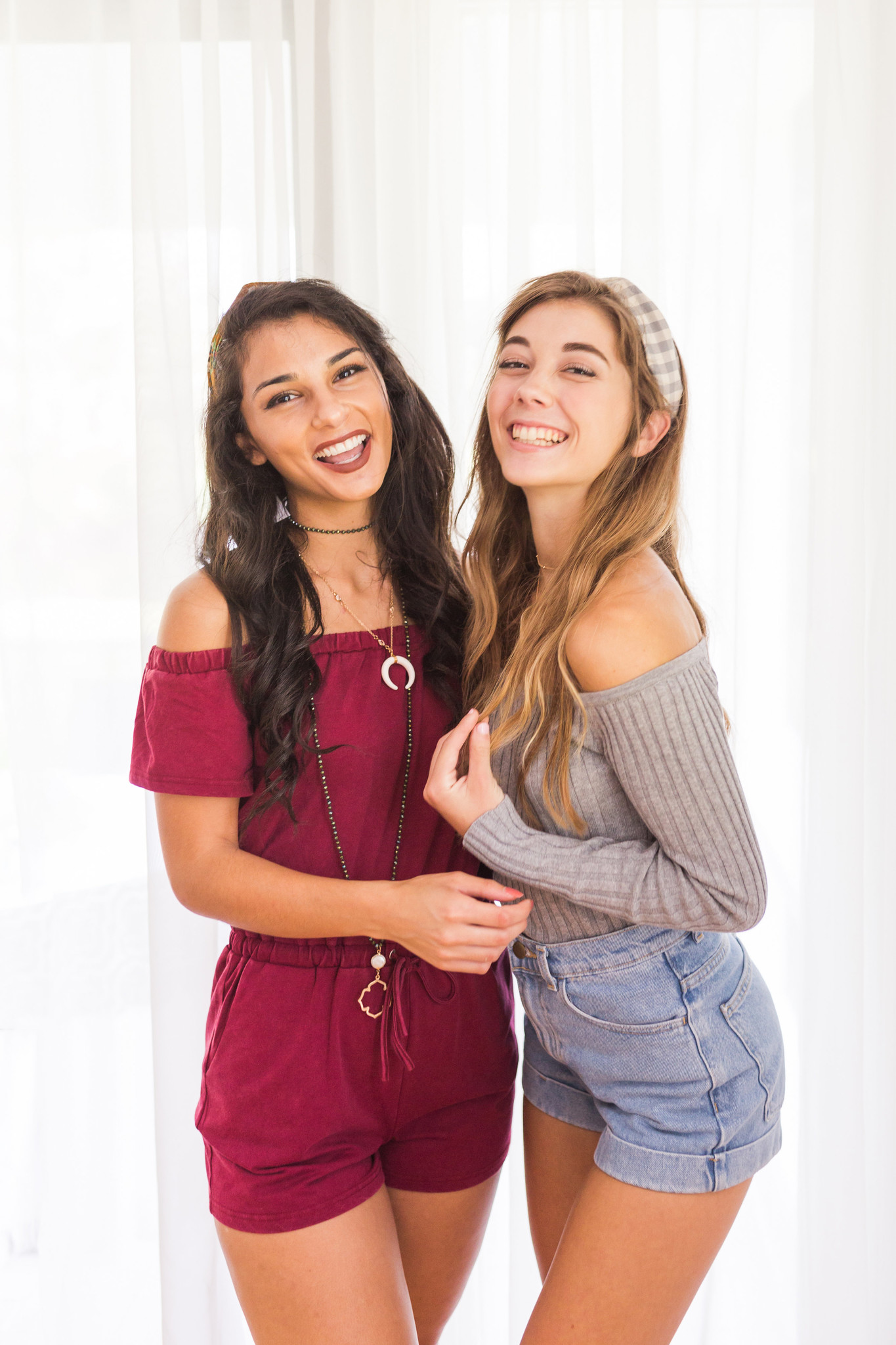 So I'm not going to lie… sometimes I'm the friend that tags along to sporting events and doesn't have a specific team to root for. In this case: wear neutrals! Usually teams have crazy colors, so wearing grey or tan doesn't put you into a specific category. (You can avoid making enemies!) As you can see in the photo above, the outfit on the right is something I would wear to the Florida-Georgia game if I didn't care about rooting for a team! The grey bodysuit with the basic denim shorts is completely neutral. Adding a cute accessory is a great way to further dress up the basic fit. My counterpart in this photo is obviously rooting for Georgia… ;) Jokes. But really, her romper is perfect for a Georgia fan!
USE COUPON CODE: COPPER CASH
FOR $5 OFF YOUR PURCHASE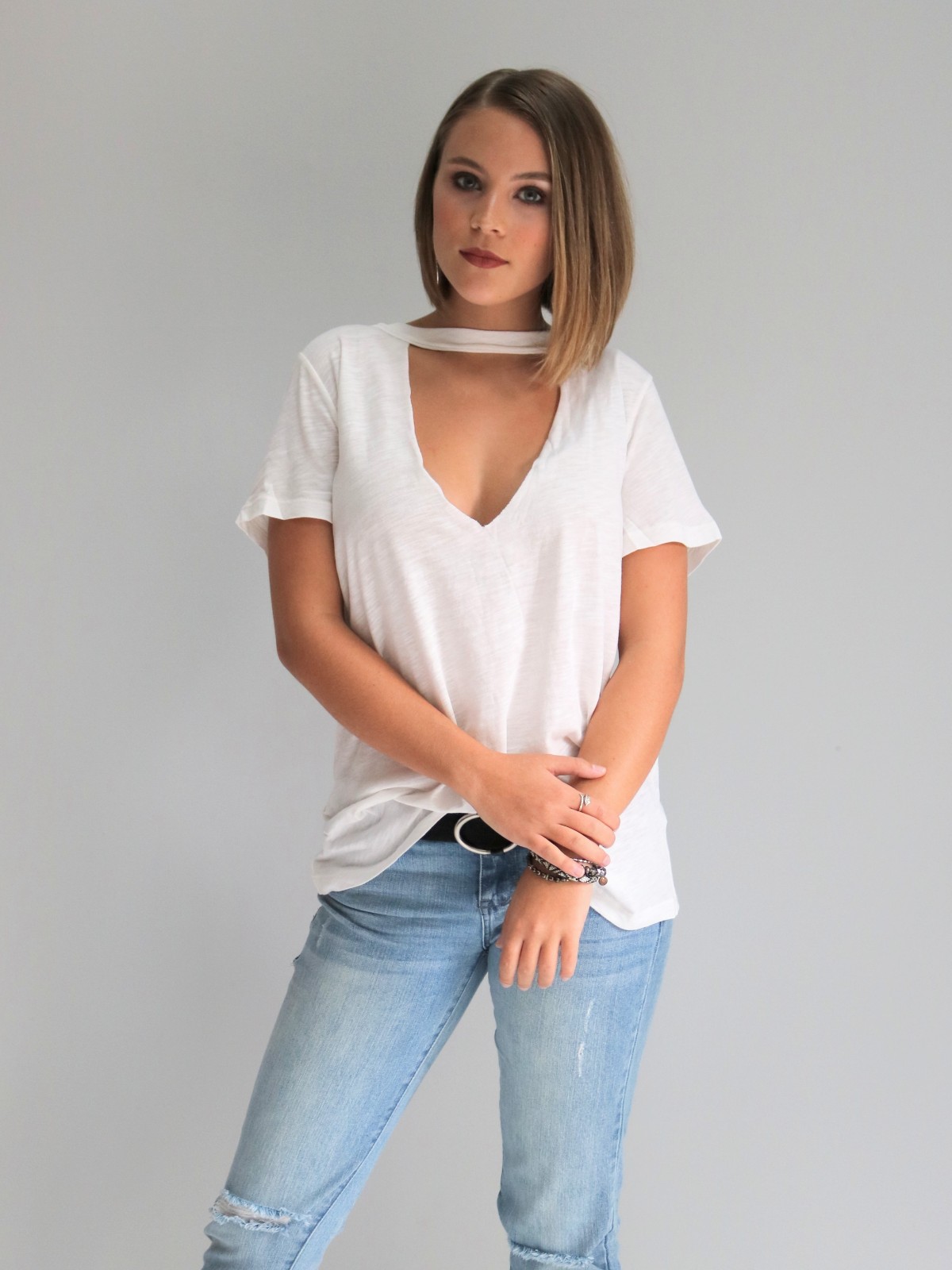 Sometimes basic tees are the way to go! One trend that is definitely in style right now are triangle neck t-shirts. As pictured above, these shirts offer an edgier look to a basic plain tee. The deep V allows you to show a little skin, while the choker part gives the illusion of a necklace. Wearing your team's color would work, however you could also get crafty with it and make your own.
To make your own:
First find a t-shirt that you would want to cut into this style. A shirt in your own closet would work, or even a shirt from a thrift store. Making this shirt style with an actual team t-shirt would be super cute as well.

Once you have the shirt you want to use, using a pencil or some chalk, trace the triangle cutout of your choice. You can make this triangle as big or small as you would like. To more accurately trace the design to your liking, you could put the t-shirt on and have someone else tailor the triangle to your body.
Once you've made your tracings, use a pair of scissors and cut the triangle! Be sure to leave the hem of the neckline in tact since this acts as the "choker necklace."
This DIY is super easy to do and spices up old t-shirts!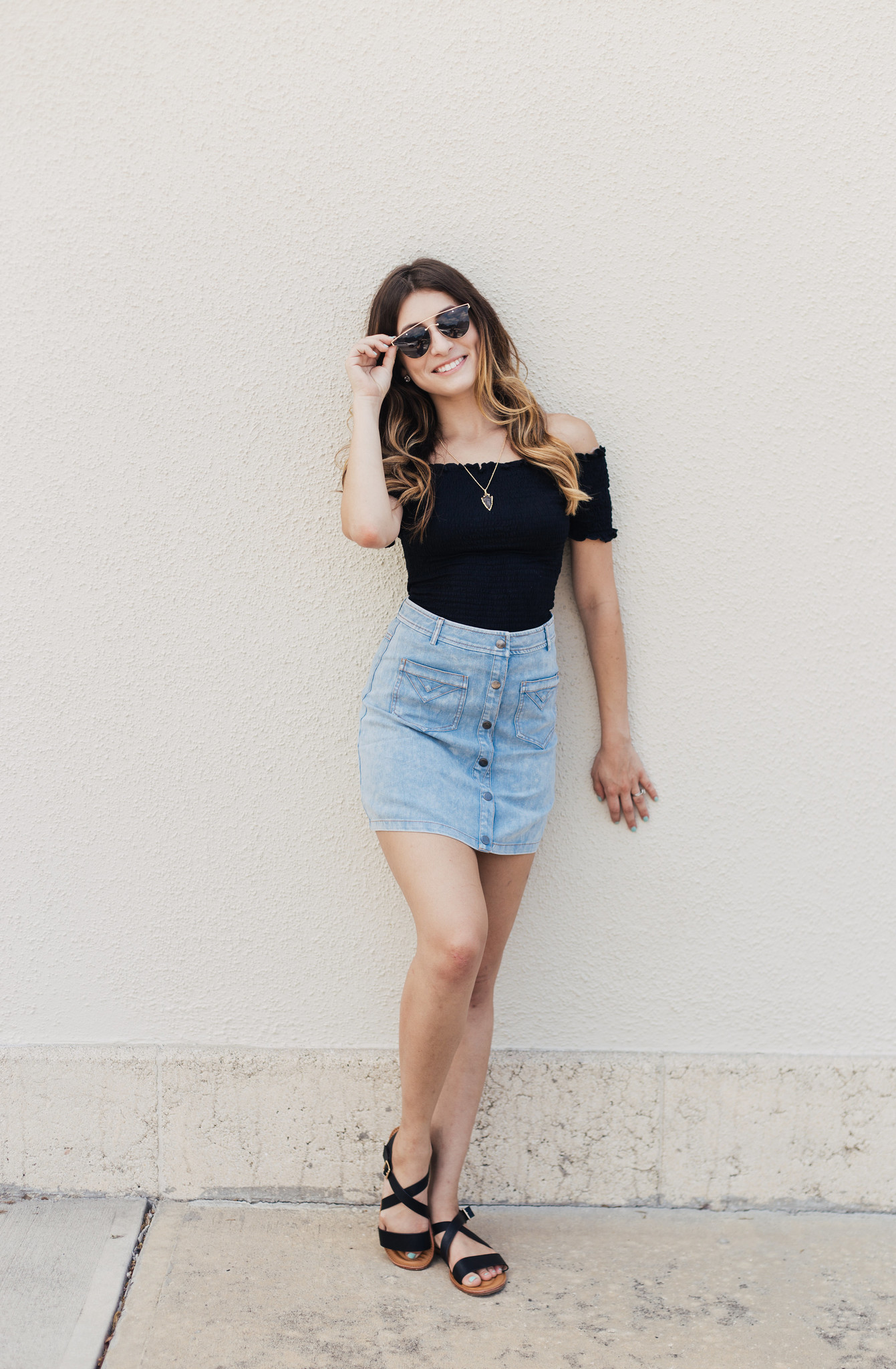 Another personal favorite that can be worn to the Florida-Georgia game is this outfit pictured above. The off-the-shoulder black top tucked into a high-waisted denim skirt is a classic look. Denim skirts can be worn in many ways. Another great approach would be to grab a team t-shirt and tie a little knot in the front making it more of a crop top. Then add a high-waisted denim skirt and some comfortable shoes! A cute and effortless outfit.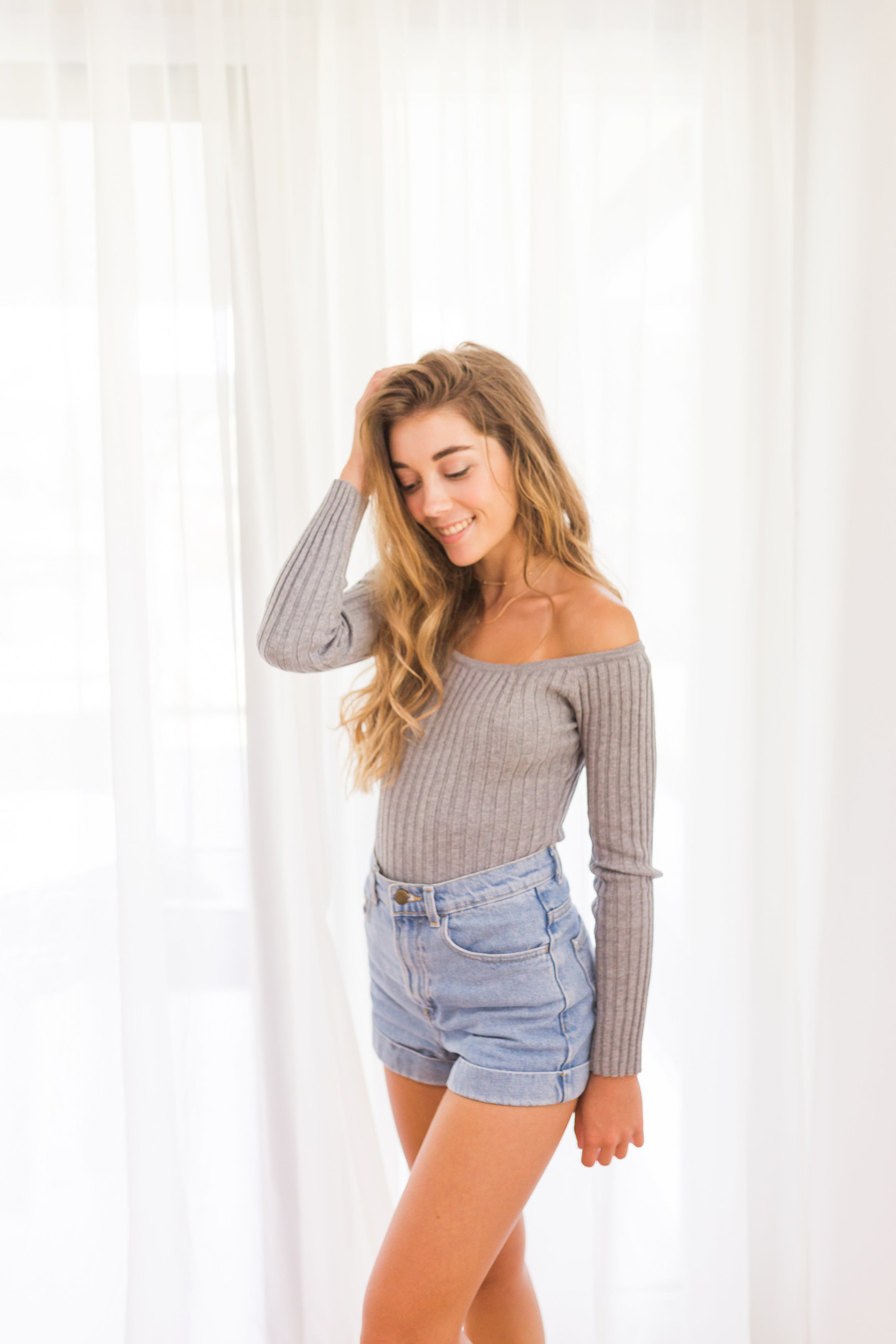 Personally, if I were attending the Florida-Georgia game this season I would wear the outfit pictured above. Since I have friends from both schools and I don't have a preference, I would want to stay neutral… just to avoid making some frenemies… ;) The simple ribbed bodysuit and basic denim shorts is my best bet. I could also add a pair of converse to finish the casual look. Maybe I'll acquire some silly team accessories from each side and wear both of them… just so I'm being fair!
There are so many options for football game fashion! Obviously you want to be comfortable in the clothing you wear, but ideas are endless. Rompers are perfect for a dressier look but since they're technically shorts, they're great for a day of festivities. Dresses can be a good option, and sometimes unique t-shirts could make for some of the best outfits. No matter what, there is a perfect outfit for everyone. If you're lucky enough to attend the Florida-Georgia game this year, stay safe and have a blast rooting for your favorite team!

ABOUT THE AUTHOR